Hartland Foot & Ankle
At Hartland Foot & Ankle, we offer quality and knowledge when treating the podiatric aspects of diabetes, sports injuries, skin and nail conditions and much more. Greater health problems are often revealed through the feet, that's why a thorough "at-risk" evaluation can get you on the path to overall good health.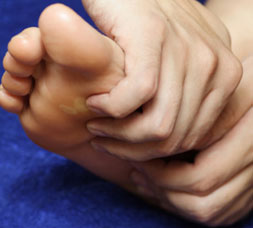 We offer a number of ways to treat every foot, ankle and nail concern.
Podiatric Sports Medicine — For weekend warriors and seasoned athletes, we can help keep you playing at your highest level. Whether it is a sprain, tendonitis, or biomechanical problem, we can help athletes return to full activity after an injury. By assisting with gait analysis, mechanical foot function, shoe analysis or orthotics, we can get you back on the road to recovery.
Orthotics — From the most advanced custom orthotics to quality prefabricated inserts, we can provide effective and affordable biomechanical options specific to your condition and needs. No two orthotic devices are alike—and they shouldn't be!
Preventative Foot Care — Preventive foot care is an important element of good health at any age. Whether its children, diabetics or senior citizens, we provide comprehensive foot care to meet the needs in all stages of life.
Total Foot and Ankle Care — As the foundation for the rest of our body, problems with your feet or ankles can complicate issues with the knees, hips, and back, altering the way we stand, walk or run. Using both conservative and surgical methods, we are committed to treating a full range of foot and ankle problems, from the smallest to the most complex, in patients of all ages.